Ice Cream Sorbet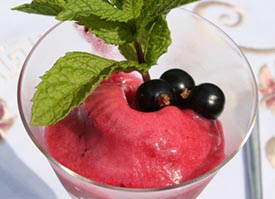 When it comes to sorbets some people actually call them water ices as they are made without milk. They first becae popular in Victorian England when at large dinner parties the host wished to serve their guests with something refreshing between the starter and main courses. Today ice cream sorbets form part of some of the world's top restaurant menus in equally the same way but they are also eaten by many people simply as a 'stand alone' refreshing dessert and are possible to make at home using ice cream maker.

The main ingredients of a good sorbet are fruit, sugar and water. Alcohol can be also be used - white wine and champagne make good sorbets. Sometimes a little, added lemon juice helps enchance the flavor of a sorbet and if you want extra body you can opt to use corn syrup. Many sorbets use a syrup mixture as part of the recipe.


Alcoholic Sorbet Ideas - these are of course for adults only as they do contain real alcohol! I have 2 wine sorbet recipes and 1 gin sorbet recipe - all ideal to serve as part of a formal dinner party menu or for a wedding celebration etc. Any occasion where adults get together and you'd like to see them enjoying something refreshing yet a little different. Alcoholic sorbets are also great seasonal treats - a white wine sorbet being ideal for a summer occasion, a mulled wine sorbet perfect for Thanksgiving or Christmas and a sloe gin sorbet for Christmas or New Year celebrations.

Alcohol based sorbet recipes: White Wine Sorbet ~ Mulled Wine Sorbet ~ Sloe Gin Sorbet


Fruit Sorbet Ideas - fresh fruit is delicious in sorbets and whenever I can I use fresh fruit from my own garden. Here are some of my favorite fruit sorbet recipes ....
Orange, Strawberry, Apple ~ Pear, Lemon, Tropical ~ Apple & Blackberry ~ Blackcurrant & Lime

If you're in a hurry or want a quick treat for the kids on a hot summer's day, you can make quick and easy sorbets by just using a fruit juice in the electric ice cream maker!

For those interested in the history of ice cream, Marco Polo on returning from the Far East was reputed to have brought back with him a type of sorbet recipe. Read more on my ice cream history page and then go and create a little piece of your own history by making your first batch of homemade ice cream.



And when you've done that don't forget to share your experience with the rest of us. Sharing the passion of ice cream is great fun and we'd love to hear from you.