Ice Cream For Memorial Day
This is a special day in the United States and is observed annually on the last Monday in the month of May every year. The origins of Memorial Day go back to the era of post American Civil War days and by 20th century it had become established as a day to remember all Americans who had died in times of war.

Today Memorial Day is part of a traditional, long weekend when families and friends get together. Some people prefer to meet up at home and enjoy a special meal, others like to make a special trip out perhaps to the beach or shopping or to participate in other leisure activities together. Being in the month of May, many people recognise Memorial Day as the start of the summer holiday season so ice cream is often on the menu to enjoy. It might be an ice cream cone at the beach, a special ice cream sundae at a parlor or enjoying delicious, homemade ice cream after dinner at home.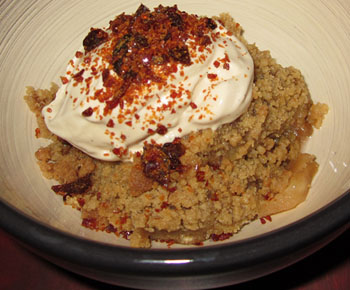 Serving up homemade ice cream for friends and famiily on Memorial Day can be great fun and makes for a really special treat. Tips for making ice cream on Memorial Day?
1. Find out what your dinner guests like - both in terms of puddings and ice cream flavors.

2. Decide whether to make a pudding AND some ice cream to serve together - such as the delicious rhubarb crumble pictured with creme brulee ice cream and crushed toffee pieces or whether to make a batch of ice cream for ice cream sundaes.

3. Make your ice cream mixture up the day before, keeping it in the refrigerator overnight. This will ensure your mixture is thoroughly chilled to get best results.



My favorite ice cream recipe and always a hit with family and friends is real vanilla ice cream made with a rich custard base. It works really well on its own or can be served with fresh fruit and an ice cream topping such as chocolate sauce. For more ideas read my page on ice cream toppings here . There's also my gallery of ice cream sundae pictures which I've taken over many years - click here to view what I hope will give you some inspiration to make your own on Memorial Day.