Sundae Gallery
Having plenty of recipes for homemade ice cream is great but it is only the beginning. It is what you do with your ice cream that can turn your culinary efforts into something really special! So I have created this section featuring some of my best sundae pictures from the last 12 years in order to help and inspire you to create the frozen dessert of your dreams. Every sundae featured was eaten and enjoyed either by myself, my family or friends - and they were all delicious!
** If you like these pictures then you will LOVE my gallery of ice cream cones **
** There's also the Google+ Ice Cream Sundae Community **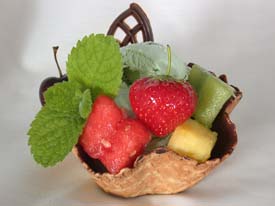 Simple vanilla - photo 1
Vanilla ice cream, strawberry sauce, fresh strawberry - one of the simplest sundaes to make but always a treat.

Chocolate and strawberry - photo 2
Chocolate and strawberry ice cream, chocolate sauce, whipped cream, dark chocolate truffle, fan wafer. This is a nice sundae as the strawberry and chocolate flavors really blend well together, with the truffle adding a touch of luxury.

Simple strawberry sundae - photo 3
Strawberry ice cream, strawberry sauce, fresh strawberries, whipped cream, chopped hazelnuts, fan wafer. Another simple dessert treat, really easy to make but always looks inviting.

Lemon sorbet with chocolate leaf- photo 4
Lemon sorbet, melon, orange, black cherry, chocolate leaf decoration. This is a more unusual sundae but I find that sorbets can work really well if you choose the right blend of flavors and fruits like oranges and lemons always work well.

Eton Mess - photo 5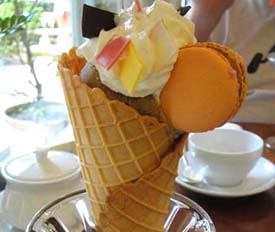 Vanilla ice cream, meringue, forest fruits - a great choice if you want something a little different. The texture of the meringue and the 'kick' of the forest fruits flavor work really well with vanilla ice cream. Photographed in a London pub where they told me it was their most popular dessert with locals.

Mint choc chip waffle basket with fresh melon, pineapple, fresh mint, chocolate leaf. I love using a waffle basket as it adds a different color and taste but it also means there's no serving glass to clean afterwards!

Blackcurrant sorbet - photo 7
Blackcurrant lime sorbet, blackcurrants, fresh mint. Simple but strikingly fresh and fruity.

Chocolate Liegois - photo 8
Chocolate ice cream, chocolate sauce, whipped cream, biscuit wafer - the classic French sundae which I photographed in France.

Fruit and chocolate sundae - photo 9
Strawberry, mango and chocolate ice cream, whipped cream, chocolate pieces. A fruity sundae served in Thailand and eaten by a friend.

Cone sundae with chocolate ice cream, whipped cream, macaroon. A novel way to serve a tempting frozen treat with the cone adding great color and texture. Another photo taken in Thailand.

I hope you will enjoy looking at these pictures and that they inspire you to create some wonderful sundaes of your own.