Recipe For Fruity White Wine Sorbet
An alcoholic sorbet made with sweet white wine - strictly for the adults, not the kids!
Ingredients:

10oz (250g) caster sugar
3/4 pint (375ml) water
1/2 pint (250ml) sweet white wine
juice of 1 orange
juice of 2 lemons




Method: In a saucepan mix together the sugar, water and wine. Place on a medium heat, stirring all the time until all the sugar has dissolved. Bring the mixture to the boil and simmer for 5-10 minutes until it is like syrup.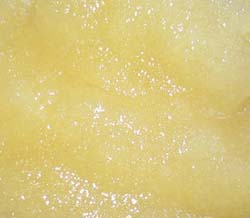 Remove from the heat and place safely to one side to allow the mixture to cool (allow at least an hour for this).

When the syrup has cooled, transfer it into a chilled bowl and refrigerate to chill further (overnight or for 3 hours minimum).

When the syrup is thoroughly chilled, stir in the orange and lemon juices.

Transfer the complete mixture into an ice cream maker and freeze according to the manufacturer's instructions. Serves 8-10.


This recipe is ideal for anyone who doesn't eat food with milk or cream ingredients. It's also an ideal recipe for those occasions where you want a light dessert and makes for a really refreshing sorbet between main courses if you're throwing a formal dinner party. If you like wine in ice cream, you might also like to try a mulled wine sorbet which is great for winter time - try it at Thanksgiving or Christmas for a really different dessert.
Click here
for the ingredients and instructions.
Here
is one of my favorite recipes for sorbet using fresh fruit - rhubarb sorbet. I love rhubarb, especially when it's picked fresh from the garden and it makes a tasty refreshing dessert as well as a beautifully pink one!