Sorbet Recipes - Delicious Rhubarb Sorbet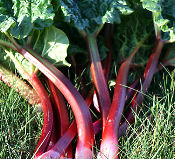 Ingredients:
Fresh rhubarb - 1lb (450g) of stalks, trimmed and with
leaves removed
. NOTE: rhubarb leaves are poisonous
To stew the rhubarb
:
2 tablespoons water, 1 tablespoon sugar
Simple syrup
- easy to make, follow the link for instructions
NOTE: The measures I used in this recipe were 2 cups (500ml) water and 5oz (125g) sugar

Method: Take the rhubarb stalks, rinse thoroughly in cold water and chop into chunks approx 1 inch long. Place in a saucepan and add the water and sugar. Stir and slowly bring to the boil. Simmer gently for about 10 minutes until the rhubard is soft and stewed. Place to one side to cool.


Make the simple syrup and, again, place to one side to cool. Place the cooled, stewed rhubarb into a food blender or food processor and pour in the cooled simple syrup. Blend together for a few seconds - long enough to ensure the rhubarb is fully blended into the mixture. Transfer the complete mixture into an ice cream maker and follow the manufacturer's instructions. Serves 6-8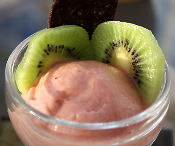 PHOTO: This is how I presented my rhubarb sorbet - in a treasured, old 'penny lick' ice cream glass with slices of kiwi fruit and a mint crisp (two of my husband's favorites!)
Rhubarb has been popular for a long time and is renowned for its unique flavour and health giving properties.
It's a fabulous food because of its versatility. I grew up watching my mother and aunts all using rhubarb in their home cooking. They all made delicious pies, puddings and jams with rhubarb, my favorite being a dish of piping hot, stewed rhubarb with custard. So much so, that it inspired me to create a recipe for rhubarb and custard ice cream which my family love. Look under Special Features on this page to find a link to the recipe.

You can find more sorbet recipes
here
including alcoholic sorbets (white wine, mulled wine and sloe gin).