Sloe Gin & Berry Sorbet Recipe
A boozy sorbet made with sloe gin, blackcurrants and redcurrants. A rich, red, alcoholic dessert ideal for dinner parties.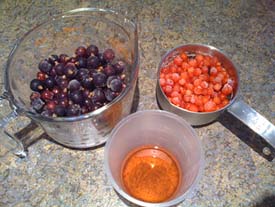 Ingredients:
2 cups blackcurrants
1 cup redcurrants
3/4 pint (375ml) water
8oz (200g) caster sugar
4 tablespoons sloe gin


Method:
Place the blackcurrants, redcurrants and water into a blender. Blend until smooth and then pour through a sieve. Press to extract the juice from the fruit. (Discard the fruit flesh left) Mix this juice with the sloe gin and caster sugar in a saucepan over a medium heat. Stir and bring to boiling point. Then simmer whilst stirring until the sugar has dissolved and you have a syrup. Remove the syrup from the heat and leave to cool. When cool,, place in the refrigerator to chill (overnight or minimum 2-3 hours). When the mixture is thoroughy chilled pour it into an ice cream maker and freeze according to the manufacturer's instructions. Serves 8-10.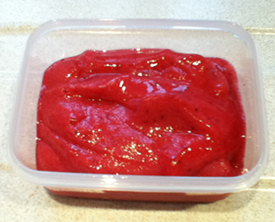 This alcoholic sorbet is great for serving to adults at a special celebration such as a birthday or anniversary. Its rich color makes it ideal as a 'festive' sorbet for Christmas dinner parties.
Photo: Freshly made sloe gin sorbet in plastic container ready to be sealed and stored in the freezer.
Other alcoholic sorbet recipes you might like to try:
mulled wine sorbet
white wine sorbet
You can read more about sorbets
here
- there's so much variety, you'll be surprised.