A Timeless Classic: The Ice Cream Parlor
This is a place loved by both children and adults alike. It's a place that symbolizes enjoyment - usually a colorful place with a relaxed atmosphere. Ice cream parlors offer a wide variety of ice cream flavors to choose from and they often have an incredible menu of sundaes too.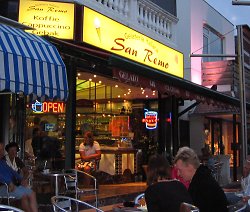 In an ice cream parlor you will see all kinds of flavors plus different types of wafers, cones, cone curls, toppings and sauces. If you have a sundae it will probably be served in one of the many ice cream glasses kept behind the counter. These can vary greatly in style, size, shape and color. Some of the best glasses I've ever seen for serving ice cream in have been at seaside parlors.

Pictured left - an Italian style ice cream parlor in The Netherlands which I photographed during the evening when passers-by had just had dinner and were looking to enjoy a special dessert treat and coffee before wending their way home.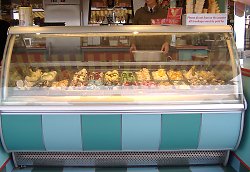 Pictured right - this refrigerated counter was in a British ice cream parlour. The name of each ice cream is displayed so that customers can easily identify what they want.

The origin of the ice cream parlor is an interesting subject. According to a number of sources, the very first one in the United States is believed to have opened more than 200 hundred years ago in 1776 in the city of New York.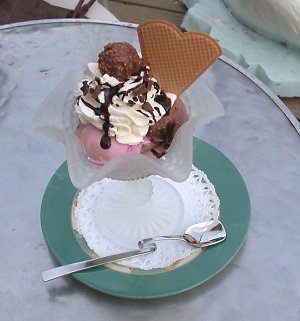 Ice cream parlors today can be found in many countries around the world and within each country they seem to adopt their own style. Fundamentally though, they are all the same - a big display counter with options of cones or sundaes to enjoy once you have made your selection.

Pictured right - a wonderful chocolate based sundae from the San Remo Gelataria (ice cream parlor).

Note the unusual spoon with a beautiful little kink in it so that you can rest the spoon on the edge of your ice cream dish in between mouthfuls. Ingenious! In fact it was so novel that I asked the parlor owner if I could buy it and bless him, he was so surprised at my enthusiasm that he gave it to me. Such is the passion these people have for sharing their love of ice cream.

See my special feature on one of London's most popular parlors - Morelli's Gelato London here.

Follow Ice Cream Recipes