Recipe For Real Vanilla Ice Cream
This recipe is amongst the top 10 viewed on my site. Making a custard base gives a truly rich and creamy homemade texture and flavor.

Ingredients:
5 egg yolks (beaten)
4oz (100g) caster sugar
¾ pint (375ml) full cream milk
¾ pint (375ml) heavy/double cream
1 vanilla pod (scored down the middle)
Optional extra: 1 level teaspoon cornflour (for a thicker texture or when using an ice cream maker with a bowl that has to be frozen in advance)

Method: Pour the milk into a saucepan and bring slowly up to boiling point but DO NOT LET IT BOIL. Place the vanilla pod into it and leave to infuse for about 20 minutes. In a bowl, beat and mix together the egg yolks and sugar (and cornflour if using it) until thick. Carefully remove the vanilla pod from the pan of milk and scrape out the seeds into the milk. Pour the milk into the mixture of egg yolks and sugar whilst stirring. Pour the mixture back into the pan and heat gently, stirring until the custard thickens - DO NOT BRING TO THE BOIL OR IT WILL PROBABLY CURDLE. When you see a film form over the back of your spoon it's time to remove the saucepan from the heat. Leave to cool.

When the custard base is cold stir in the cream and transfer to a chilled bowl. For best results refrigerate the mix for at least 3 hours (overnight if you have the time). Transfer the mixture into an ice cream maker and freeze according to the manufacturer's instructions. Serves 8-10.
Before you serve your homemade ice cream, check out the different ideas to help you decide on the best presentation. For example, have you ever tried making ice cream sandwiches? Simply delicious, easy to put together and ideal for both children and adults alike. A winner every time!

If you love ice cream recipes join the discussion



I'd love to hear from you.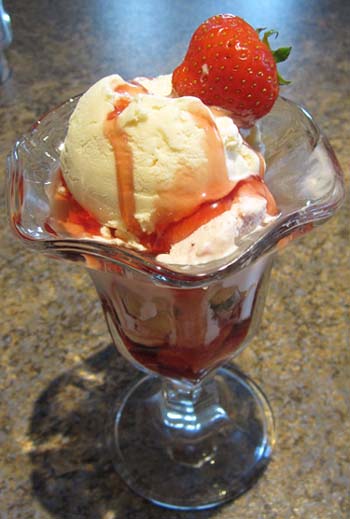 Oh and don't forget toppings - these can make any ice cream a little bit extra special. You just need to decide what suits the ice cream flavor best. For example, strawberry sauce and a fresh strawberry are a great match for vanilla ice cream, as shown in the photograph which I prepared myself - and which was promptly eaten by my husband!

If you don't want a fruity angle to your ice cream, you can always opt for a chocolate bias using chocolate sauce and chocolate sprinkles or a flake.

Chopped nuts (pecan, almond, walnut) and maple syrup are another good combination to use with vanilla ice cream. There are simply loads of ideas you can try.


Once you've made straight vanilla ice cream, you can be more adventurous. Here is one of my more unusual custard base recipes that uses vanilla as an extra flavoring - rhubarb and custard ice cream. It's fabulous! Try out this recipe and give your friends and family a special treat. I have lots of other recipes for homemade ice cream and you might be surprised at some of the flavors you can try including alcoholic ice creams and wine sorbets.