Knickerbocker Glory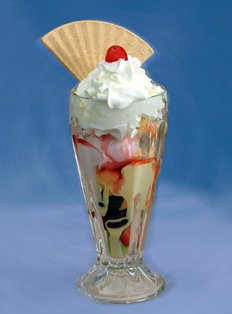 When you love ice cream as I do, you get to know all sorts of variations on a theme and here's one that no-one can fail to ignore: The Knickerbocker Glory. There's no set recipe for this wonderful ice cream sundae as far as we know. Essentially it's a British 'ice cream parlour' dessert, first made popular in the 1930s.

Served in a tall ice cream glass, it's a mixture of fresh fruit in the base with optional liquer for adults, 3 scoops of ice cream (usually vanilla and strawberry), peach melba sauce, whipped cream or squirter cream and a cherry (glace or fresh) on top. Variations can include jelly in the layers, different fruits, a different sauce or extra toppings such as flaked almonds; a wafer is also optional.

In Britain you can still enjoy a Knickerbocker Glory in many ice cream parlours and restaurants - or of course you can even make your own at home. The ingredients in my Knickerbocker Glory in the photo are listed below. Go have some fun with ice cream!

Photograph: "Shelagh's Knickerbocker Glory"


Ingredients to make it:
Fresh strawberry slices, black grapes, melon pieces in the base
2 scoops of vanilla ice cream and 1 scoop of strawberry ice cream
strawberry sauce poured over
squirter cream on top
fan wafer
a glace cherry to crown it off
"One of my fondest childhood memories growing up in England was to be on family holiday at the seaside (Scarborough was a favorite) and go looking for an ice cream parlour that served my father's favorite dessert: a Knickerbocker Glory. Once inside the parlour my father would place the order with great anticipation and then, whilst my mother and I enjoyed a simple ice cream cone or small sundae, we would watch him quietly relish every bit of that Knickerbocker Glory. Served in a tall glass it usually it took some time to eat, yet he never rushed and he never left any of it! He loved this sundae his whole life and always saw it as a special treat - a glorious tribute to the magic of ice cream!"
Author: Shelagh Caudle - Editor ice-cream-recipes.com

The 1930s saw a significant rise in the popularity of ice cream and development of flavors - there's a great Laurel and Hardy scene from one of their short movies filmed in 1931 which features ice cream strongly. You can read about it here. Wonderful stuff!

The term of Knickerbocker Glory fascinates a lot of people, particularly since JK Rowling wrote about one in the first of her Harry Potter novels. No-one quite knows the origins of the words and why they became associated with an ice cream sundae. So I decided to research the subject and came up with my own personal viewpoint on the Knickerbocker Glory which I hope you will find interesting. Whatever its origins, it is unquestionably one of the best ever ice cream sundaes - if I didn't say that my father would never forgive me, bless him.