Christmas Ice Cream - A Special Homemade Treat
Christmas, for many people, is a time of celebration, a holiday and a chance to take time out with family and friends. Getting together over the Christmas holiday season usually involves eating – either entertaining at home or being invited out to someone else's home for dinner. So those of us preparing meals over the holiday are always keen to find good Christmas recipes. Ice cream is an ideal dessert to serve because of its universal popularity with adults and children alike. So what kind of ice cream recipe is good to offer at Christmas? 

Well, for me Christmas has always been synonomous with winter and the need for warming and comforting food. So my favorite Christmas ice cream recipes are either made with ingredients associated with winter time and Christmas or made with luxuriant, rich and self-indulgent ingredients.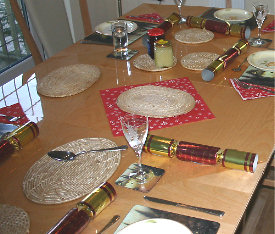 Here are some of my favorite recipes for homemade ice cream this time of year:
Christmas Pudding Ice Cream
Honey Cinammon, Cloves
Stem Ginger Flavor
Rich White Chocolate

Including a few alcoholic ones ....
Egg Nog
Coffee, Rum & Walnut
White Wine Sorbet
Mulled Wine Sorbet
Sloe Gin Sorbet



Thinking of buying an ice cream maker or ice cream recipe books?
There are some great value for money ice cream theme gifts available online via Amazon.

** If you need to create a festive dessert with little time to spare, there's my quick and easy chocolate ice cream recipe. No cream, no eggs. Simple but tasty enough to bring festive smiles to faces **