Classic Sundae: Chocolate & Strawberry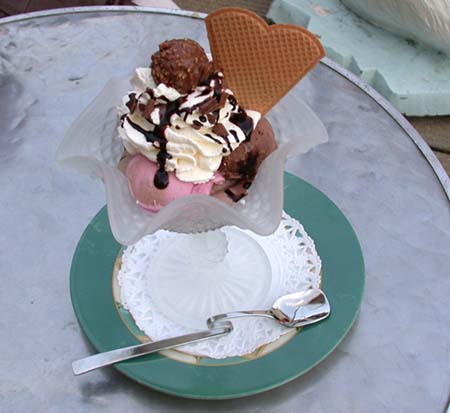 Chocolate and strawberry flavor ice creams, chocolate sauce, whipped cream,
dark chocolate truffle, fan wafer. I photographed this sundae in Holland at a little ice cream parlor.

The combination of strawberry and chocolate worked really well but the best bit was the chocolate truffle on top.
The ice cream spoon was really novel too with a kink in it so that you could hang it onto the side of the dish.
Copyright Notice ~ The image above is copyright material © ice-cream-recipes.com. Downloading by third parties for commercial purposes is not permitted. See
Terms of Use
.
If you enjoy looking at photos of ice cream you'll love the
Google+ Ice Cream Sundae Community
- check it out today!