Large Cones For Ice Cream Parlors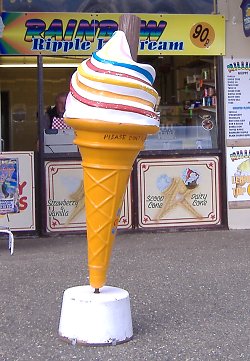 Wherever ice cream is sold there is usually a sign advertising the fact.

It might be a neon sign, a display board outside a cafe, a banner in a shop window or it could even be a large, plastic, ice cream cone displayed on the sidewalk to advertise an ice cream parlor or ice cream kiosk. I love to see these and photograph them every time I come across one. It's surprising just how different they can be too. Some, like the ice cream cone on the left, are given lovely swirls of sauces on top of the ice cream to make it look really appealing. As you can see from the photograph, this ice cream display cone was standing directly in front of an ice cream kiosk (in Bridlington, North Yorkshire, England).

I've seen similar ones in other parts of England such as in Seahouses (Northumberland) when I was on a trip to visit Alnwick Castle (aka Hogwarts Castle). I would challenge anyone to walk past these cones without wandering over to buy an ice cream. I'm sure the psychology works because this type of advertising material has been around for many years and with the likely cost of having big display items made, it must pay dividends on ice cream sales or they wouldn't do it!

Now this display cone I photographed was not in England or the USA but in a pedestrian area of a small Dutch town called Zandvoort which is about a half hour from Amsterdam.

Although it's not in the picture, to the right of the cone is a kiosk selling ice cream cones and tubs. Notice the difference between this cone and the one pictured above it? There's no sauce or topping and the cone is a waffle type as opposed to the more traditional wafer one. That in itself is a reflection of the georaphical area where these cones were seen. Clearly they would indicate that in England traditional wafer cones are more popular whilst in the Netherlands waffle type is preferred.

If you enjoy ice cream cones then follow the link to read more including a little history. Of course reading about the ice cream cone would not be complete if you didn't also read about ice cream parlors so take your time, check out the pages and share in my passion for all things ice cream.