Pharoah's Dessert
Reasonably large ice cream sculptures, approx 10-12 servings

REMEMBER TO READ THE BEFORE YOU START GUIDE FIRST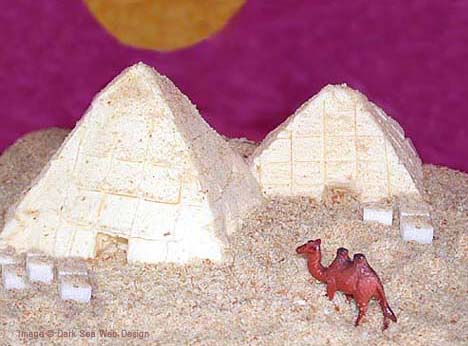 Ingredients:
- 4 litre tub of vanilla ice cream
- Sugar cubes (6-10)
- Mixture of ground almonds, breadcrumbs (toasted) and Demerara sugar – for the sand
- Plastic camel (helps create and emphasise the context of the design)

Utensils:
- Large carving knife
- A jug of hot, boiled water to dip the carving knife in to make cutting easier
- 2 large trays (baking trays are OK) chilled in the freezer before starting
- A sheet of baking foil cut to the size of one of the trays

Remember: when working on a sculpture keep putting it back into the freezer about every 5 minutes to prevent it from melting and to retain its firm shape.

Creating the pyramids
Take the tub of ice cream and the 2 trays from the freezer.
Hold the bottom of the ice cream tub under running, warm tap water in order to loosen the ice cream from the sides and then tip out onto one of the trays. Using the large carving knife, cut out pyramid shaped blocks of ice cream - ie each having 4 triangular faces.

Place the sheet of foil on the other chilled tray and transfer the triangular blocks of ice cream onto this. Mark squares of lines on the faces of the blocks and emphasise the sharp edges. Place the sugar cubes in groups of 2 or 3 at the bottom of each pyramid - for the effect of blocks of stone which have fallen away from the pyramids.

Sprinkle the mixture of ground almonds, breadcrumbs and Demerara sugar thickly around the base of the pyramids and in between. Also sprinkle some lightly on the actual pyramids themselves to create a 'sand-blown' effect.

To add to the context of the design you can make your own 'backdrop' - we used a piece of silk which happened to have what looked like a golden sun as part of its pattern!

Note: when you serve the ice cream, sprinkle the 'sand' on it as a crunchy topping.