Rose Bouquet
1 rose = 1 serving

REMEMBER TO READ THE BEFORE YOU START GUIDE FIRST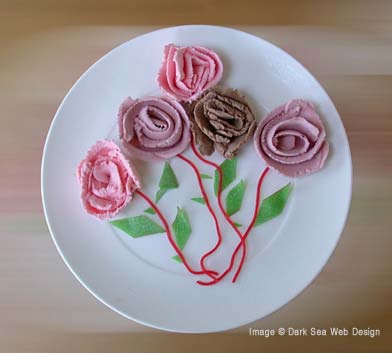 Ingredients:
- Different ice creams of your choice
(ensure a contrast in color/flavor)

- Red strawberry flavor licorice strips
- Green 'Apple Stripes'

Utensils
- Large serving plate chilled in the freezer before starting Ice cream scoop
- Jug of hot, boiled water for the dipping the scoop in before/after creating each flowers
- Sharp knife for cutting the licorice and green apple strips.

Remember: when working on a sculpture keep putting it back into the freezer about every 5 minutes to prevent it from melting and to retain its firm shape.


Creating the roses
Take the ice cream scoop and drag it across the top of one of your tubs of ice cream to get a nice 'curl' of ice cream. Nip the bottom of the 'curl' together to create effect of being closer in at the bottom and fanned out at the top. Continue with the curls adding them round the outside of the first one - the first needs to be quite tight and then as you go on they get more loose until you've created enough layers to look like petals. Place on the chilled plate and put in the freezer. Then make as many more roses as you want (each time bringing out the chilled plate and then returning to the freezer). Our design was with 5 roses but could do more, say 10 or 20 depending upon the occasion.

Cut the red strawberry flavor licorice to size for the stems and put in place under each flower. Cut the green apple strips into diamond shapes for the leaves (ie. diagonally as when doing pastry leaves in baking) and put into place.

Important: You can choose other types of sweets or food for the decoration of this sculpture - just use your imagination!