Rocky Road Ice Cream
Ingredients:
3 egg yolks
3 oz (75g) caster sugar
1/2 pint (250ml) full cream milk
1/2 pint (250ml) whipping cream
3 oz (75g) milk chocolate
2 oz (50g) dark chocolate
2 oz (50g) almonds (or walnuts or pecan nuts)
2 oz (50g) small marshmallows
2 oz (50g) glace cherries

Optional: 1 level teaspoon cornflour (for thicker texture or when ice cream maker has a bowl that needs advance freezing)



Method: First of all you need to make a chocolate custard.
Mix together in a bowl the egg yolks, sugar (and cornflour if you want a thicker ice cream). Beat until nice and thick.

Pour the milk into a saucepan, drop the milk chocolate into pieces in and heat slowly over a low heat whilst stirring all the time. Make sure the chocolate has melted.

Next, pour the hot chocolate milk into the bowl with the yolks/sugar/cornflour mix whilst stirring. Then pour the mixture from the bowl back into the pan.



Heat gently and keep stirring until the custard thickens. Do NOT bring to the boil or it will probably curdle. When there's a film forms over the back of your spoon the custard is ready.

Remove the pan from the heat and leave to cool. When cool, put it in the refrigerator for at least 1 hour to chill.

TIP: If you want to speed up the cooling process, place the bottom of the saucepan in a bowl containing ice-cold water. Stir occasionally to stop a skin forming on the custard. Then refrigerate as mentioned previously.



Whilst the chocolate custard is cooling whip the cream until it holds its own shape then chill in the refrigerator for at least 1 hour.

When the chocolate custard base and whipped cream are thoroughly chilled, remove from the refrigerator and fold the cream into the custard.

Transfer the complete mixture into your ice cream maker and follow the manufacturer's instructions. Usually this takes 20-25 minutes.
Whilst your ice cream maker is churning, prepare the remaining ingredients (below) as they will need to be added to the ice cream mixture 5 minutes before the end of your machine's cycle: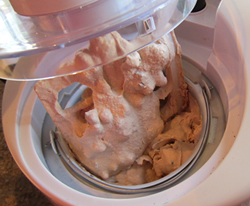 a) chop the dark chocolate, glace cherries and almonds into small pieces;
b) halve the marshmallows
Five minutes before the end of your machine's freezing/batching cycle, drop the chopped ingredients into the mixture through the opening in the machine lid.
This produces a soft, gelato-type ice cream and if you like that texture it should be served and eaten straight away. If you prefer a firmer ice cream, then spoon the ice cream into a freezerproof container with lid and freeze for about 30-45 minutes before serving. Serves 6-8.

Author: Shelagh Caudle