Gino Soldan - Master Gelatiere
An Exclusive Interview for http://www.ice-cream-recipes.com
Gino Soldan is the Master Gelatiere in charge of ice cream making for the renowned Morelli's Gelato ice cream parlor in Harrod's London. He's been making ice cream for 18 years and has been with Morelli's for the last 5 years. On 28 August 2008 there was a press release announcing that Gino had produced a sensational new range of 20 unusual ice cream flavors on the theme of Britain's best known foods.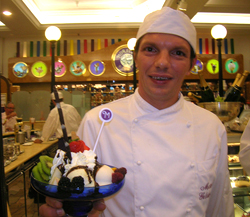 I called Gino for a chat, hoping to find out more about this new venture. To be honest, I expected to find him busy or perhaps with limited time to talk to me - but I was wrong. He's a delightfully courteous man with a huge passion for ice cream and gave of his time most readily. Our conversation touched on many elements of ice cream making and his experiences as a Master Gelatiere  and it is with his permission that the essence of our conversation is published here. Visitors to www.ice-cream-recipes.com all love ice cream and I know for certain they will find this insight into master ice cream making truly fascinating.

Gino's passion for ice cream was clear from the moment our conversation began. With a wonderful and typically Italian enthusiasm he said: 'Ice cream is art'. Gino believes that ice cream is not just a dessert and explained how he was already experimenting with unusual ice cream flavors several years ago. He produced a number of new ice creams combining savoury and sweet flavors which proved very popular. These included:

gorgonzola and pear ice cream
parmesan and honey  ice cream
feta cheese and yellow pepper cream - to be served with a grilled vegetable platter
olive ice cream - to be served with a cheese platter
tomato sorbet - to be served with gazpacho soup

How wonderfully appealing and innovative! So when laterooms.com conducted their recent poll to find out what flavors people felt best reflected the UK, Gino was the ideal master gelatiere to produce the 20 gelato flavors to match.

Here they are:

Yorkshire Pudding Ice Cream
Sausage and Mash Ice Cream
Pork Pie Ice Cream
Cheddar Cheese Ice Cream
Cornish Pasty Ice Cream
Clotted Cream Ice Cream
Lancashire Hotpot Ice Cream
Eccles Cake Ice Cream
Worcestershire Sauce Ice Cream
Haggis Ice Cream
Shortbread Ice Cream
Morecambe Bay Potted Shrimps Ice Cream
Black Pudding Ice Cream
Stottie Cake Ice Cream
Haslet Ice Cream
Red Leicester Cheese Ice Cream
Wensleydale Cheese Ice Cream
Arbroath Smokie Ice Cream
Welsh Rarebit Ice Cream
Kendal Mint Cake Ice Cream

Having made all these ice creams, Gino has obviously tasted them so I asked him which of these 20 he thought worked particularly well. His verdict: Eccles Cake, Shortbread, Wensleydale Cheese, Cheddar Cheese and, surprisingly, Welsh Rarebit. When I asked which was the most difficult he said the Arbroath Smokie - fish and ice cream are not a natural combination so this was not easy to perfect.

The special 20 flavors are available at Morelli's in Harrods BUT as a special 3 day promotion only - August 28, 29 and 30 (2008). However, if you can't get to Harrods in time, don't despair because Morelli's Gelato offers a bespoke ice cream service. Gino explained to me how it works. If you call with at least 24 hours notice you can ask for an ice cream flavor to be specially made for you. Minimum order is 1 litre. Apparently, this is proving very popular - Gino told me of how he recently made pickled onion and white chocolate ice cream for a party as a special request! So if you're having a special celebration and know that your guests would enjoy a really unusual ice cream, Gino is your man. Tel. 0207 893 8959

Developing new and exotic ice cream flavors is clearly Gino Soldan's expertise and passion and I dared to ask if there are any more yet to come. The answer was an unequivocal yes. Balti Ice Cream is a new one he's planning to make soon. Now that sounds interesting! 

I have promised Gino that I will call in on him on my next trip to London but that is provided he's not in Monte Carlo or the Middle East supervising more exotic ice cream making. You see Gino's responsibilities are not limited to London. He travels to supervise other Morelli's Gelato outlets around the world which currently include one in Monte Carlo (inside the Cafe de Paris), one in Abu Dhabi and two in Kuwait. November 2008 sees the opening of one in Dubai, UAE. None are in planning so far for the USA but who knows ... if all American visitors to London call in on Morelli's in Harrods to taste Gino's wonderful ice creams, we might  be able to start a petition! Wensleydale Cheese ice cream could yet become a firm family favorite in California - sounds crazy? Well, stranger things have been known.

Shelagh Caudle
Editor: http://www.ice-cream-recipes.com/
29 August 2008

Here is a gelato sundae which Gino made for my friend Mary - it was the biggest sundae she had ever seen!

Interview and photographs © 2008 http://www.ice-cream-recipes.com