Ice Cream - The Part Fruit Plays
Fruits are a wonderfully versatile food and using them and/or their juice with ice cream is a good example. There are 3 main ways in which fruit is used with ice cream.


Fruit As A Key Ingredient
Examples:

strawberry ice cream and banana ice cream
rhubarb & custard ice cream
many sorbets such as pear, orange, apple

Pictured: a fresh strawberry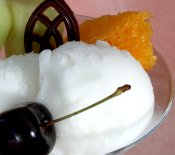 Fruit In Ice Cream Sundaes
Examples:

Strawberries, black grapes & melon pieces in
Shelagh's Knickerbocker Glory

Melon, orange & black cherry with Lemon Sorbet Ice Cream (Pictured)



Fruit As Ice Cream Toppings- eg. sliced kiwi, whole strawberries, cherries, blueberries, wedges of apple.
Read about other ideas for ice cream toppings here. Ice cream making is such fun and there are so many recipes you'll never get bored making it. That's the magic of ice cream.