The Fun Of Ice Cream!

"For me the real fun of homemade ice cream comes from 2 different things:

1) the enormous variety of tastes, textures and colors you can enjoy from homemade ice cream

2) the context in which you eat it - where, with whom, how it's presented, etc. It can be formal, it can be fun, it can be just for you or for the kids or for a whole group of people.
Think of the sheer, simple indulgence on a warm afternoon of an ice cream cone topped with a scoop of homemade vanilla ice cream dipped in a colorful, tasty sauce - what a dream of a treat!

Conversely, you might decide to try a new and unusual ice cream recipe for dinner guests - with all the nervousness and excitement that goes with it whilst waiting for their verdict! There's everything from alcoholic ice creams such as coffee, rum and walnut as well as wine sorbets through to really 'off the wall' flavors such as licorice toffee ice cream, marmalade ice cream or avocado ice cream.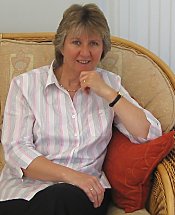 These are two vastly different contexts (and of course there's lots more) but all come from the same source - a love of ice cream, one the most brilliantly versatile foods ever!"
Author: Shelagh Caudle
Editor of ice-cream-recipes.com