Recipe for Homemade Ice Cream: Blueberry
This is a rich, creamy recipe which calls for fresh, juicy blueberries and to make it extra delicious I've added a touch of vanilla which I find works really well as it enhances the strength of the blueberry flavor. I like to serve this ice cream either on its own or as an accompaniment to hot blueberry or apple pie.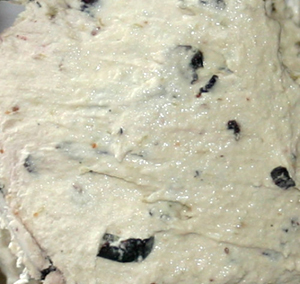 Ingredients:
4 egg yolks (beaten)
1/2 pint (250ml) milk
1/2 pint (250ml) heavy (double) cream
4 oz (100g) sugar
2 cups blueberries
(rinsed in water)
1 vanilla pod
(scored down middle)

Tip: the vanilla pod is optional but I find makes the taste that little bit more exotic!


Method: Mash the blueberries with half the sugar (ie. 2oz or 50g) in a bowl. Place the bowl in the refrigerator to chill whilst making the rest of the recipe. Pour the milk into a saucepan and bring slowly up to boiling point but do not boil. Remove from the heat, place the split vanilla pod into it and leave to one side to infuse for about 10 minutes.

In a bowl, beat and mix together the egg yolks and sugar until thick. Carefully remove the vanilla pod from the pan of milk. Pour the milk carefully through a fine strainer into the mixture of egg yolks and sugar whilst stirring. Pour the mixture back into the pan and heat gently, stirring until the custard thickens. REMEMBER: DO NOT BRING TO THE BOIL OR IT WILL PROBABLY CURDLE. When you can see a film form over the back of your spoon it's time to remove the saucepan from the heat. Leave to cool. When cool, stir in the cream followed by the mixture of mashed blueberries and sugar. Transfer the complete mixture into an ice cream maker and follow the manufacturer's instructions.

If you like blueberry ice cream here is another variation to try: blueberry yogurt ice cream

Blueberry ice cream is by definition an unusual flavor - ie. it's not in the top 10 most popular flavors. So if unusual ice cream is for you, this is where you can find a list of more unusual recipes.

Author: Shelagh Caudle