Ice Cream Without An Ice Cream Maker
Orange Ice Cream Bombe Recipe by Jenny Bagley

Jenny Bagley cooked for 30 years at Eastnor Castle. The castle sits amongst 5,000 acres of beautiful, typically English countryside close to the Malvern Hills. The latter are known to many music lovers as 'Elgar country'. Elgar was born in the area, lived most of his life there and is buried in Little Malvern (see http://www.saint-wulstans.org.uk/ for more details).

Getting back to the subject of Jenny Bagley's cooking, she cooked for the Eastnor Castle estate's owners, the Hervey-Bathurst family, as well as for many visiting VIPs and guests including members of royal families from around the world. According to James Hervey-Bathurst "her hot treacle sponge pudding was legendary" - an extract from the Introduction of Jenny's recipe book "Castle Cooking". I have read Jenny's cookery book myself and it's wonderful - a glorious testimony to traditional British country cooking.

By kind permission, I have set out below one of Jenny's recipes - Orange Ice Cream Bombe.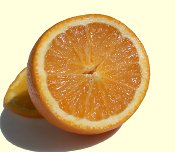 Ingredients:
1 1/2 pints (750ml) double/heavy cream
10 oz (275g) caster sugar
2 eggs, 2 oranges

Chocolate filling:
8 oz (225g) dark chocolate
4 tablespoons brandy
4 oz (110g) caster sugar and 2 eggs (separated)

In a bowl beat the eggs with the sugar until creamy. Slowly add the cream and beat again until slightly thickened. Add the grated rind and juice of the oranges and beat for 5 minutes. Pour into a basin and place in the freezer, removing occasionally to stir in order to prevent the orange rind from sinking to the bottom.

To make the chocolate filling, beat the egg yolks with sugar. In a separate bowl melt the chocolate with the brandy in the microwave (or heat in a double saucepan on the cooker). Add this to the egg mixture whilst still beating. Whip the egg whites until stiff and fold in. Leave to set in the fridge for one hour.

Take the Bombe out of the freezer and scoop out a hole in the centre of it. Put in the chocolate mixture and replace the ice cream on top. Smooth over and lace back in the freezer until required.

To turn out, rub a hot cloth around the basin to loosen the sides.

Serve with grated chocolate around the sides. Serves 6-8