A Happy Coincidence - Thanks To The BBC
In the same week that I published my post "
Castle Ice Cream's Smiling Faces
" - a feature about the popular ice cream parlour at Eastnor Castle in Herefordshire - I found myself watching a fascinating BBC TV programme entitled "Saving Britain's Past - The Country House". Focusing on how English country houses, castles and their estates have changed in the last century, the producers had selected one particular castle as the pivotal point for their programme and it just so happened to be .... Eastnor Castle! What a marvellous coincidence.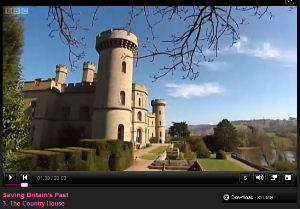 What's more, thanks to the BBC iplayer there is an online version of the programme for anyone who didn't get to see it. The opening shots of the castle are simply breathtaking and it's worth following the link for those alone. View it here:
Eastnor Castle in Saving Britain's Past
One of the most interesting parts of the programme was the story of how the owners of so many of Britain's country houses and castles have had to change the way in which they fund the often, ongoing, specialised and very expensive repair work that these properties demand. Many have opened their doors to the general public as well as for corporate and private entertaining. Eastnor Castle is amongst those and its romantic lake setting has turned it into a popular 'exclusive use'
wedding venue
.
Reading the
Eastnor Castle Blog
gives a great insight into this unique country estate, more especially because its owner James Hervey-Bathurst (President of Britain's Historic Houses Association for the last 6 years) actually takes the time to write posts personally and about all manner of things - from features on the castle cat Nutkin to the story of the old 1962 estate works lorry, what the annual Spring cleaning at the castle involves to what it was like giving a keynote address entitled "The Restoration and Redecoration of Eastnor Castle, a Regency Mansion in the Welsh Borders" at the
Charleston Art & Antiques Forum
in the USA earlier this year. Incredibly varied and interesting posts and testimony to a man's love for his ancestral home. All that AND he encourages his visitors to enjoy quality, local made ice cream served in his own ice cream parlour. Now that's what I call style!
Labels: bbc, eastnor castle, ice cream parlour, wedding venue