Castle Ice Cream's Smiling Faces
I once heard the phrase "A smile costs nothing" and I have never forgotten it. The truth is that a smile only comes from inner happiness, a joy and sense of well being or satisfaction. Seeing a baby smile for the first time is a wonderful experience because you know it is feeling genuine happiness.
On holiday recently we stayed in a hotel where the bathroom mirror had printed around the rim the words "I have never seen a smiling face that wasn't a beautiful one".
In my own memory, I can never recall seeing someone that didn't smile whilst they were eating an ice cream cone or
ice cream sundae
. They may not even realise they are doing it but it's a natural reaction to a fun experience. Indeed, many of us as we grow older smile more than children when we eat ice cream.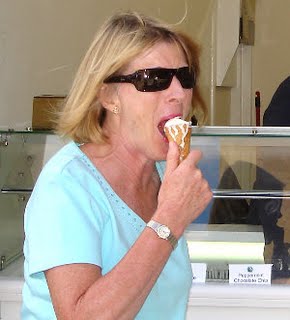 Why is that?
Well, it could be because we feel it's just a little bit 'naughty', indulging ourselves in a special treat, especially if we are watching the calories intake or are dressed in smart clothes that don't need a splurge of ice cream dropped onto them from an ice cream cone!
Take this smartly dressed lady for example on the right, a recent visitor to
Eastnor Castle's "Ice Cream Parlour"
in Herefordshire, England.
She manages to enjoy a melting
ice cream cone
without spilling a single drop onto her clothing.
Nicely done!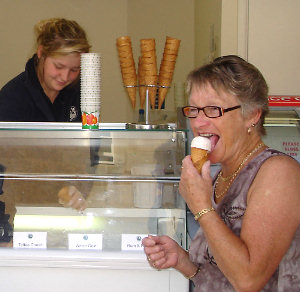 Her friend (pictured left) clearly could not resist smiling whilst enjoying her ice cream cone. Again she manages to not spill a drop of it onto her clothes!
Even the girl serving behind the ice cream counter is smiling.
That's what I love about ice cream - the sheer fun of it. Whether you are a child or an adult, the magic is the same. It's also an eternal magic that never fades. In my view, as long as you love ice cream you will always be able to manage a smile.
PS. The ice cream these ladies are eating at the
Eastnor Castle
"Ice Cream Parlour" is, I am told, supplied by a local dairy called
Brookes Dairy
. Their ice cream range includes both traditional and unusual ice creams including Almond Praline, Cointreau & Orange and Choc American (vanilla with pecans, toffee and cookie pieces swirled with chocolate sauce). Don't they sound delicious! To read more go to
Brookes Ice Cream products page
. Even HRH Prince Charles has tasted their ice cream - and loved it!
Labels: eastnor castle, ice cream cone, ice cream parlour, smiling faces