A Chocolate Ice Cream Bath? No It's Mud Running!
When I write about people or places in A Blog Of Ice Cream I often follow up later to check on any additional news.
In September I featured a super little ice cream cabin at Eastnor Castle selling locally made ice cream to the many visitors to the castle and its grounds. You may have read my
Castle Ice Cream
blog post.
Well, yesterday I read with fascination about
Mud Runner 2009
- a special race event held earlier this month at Eastnor. And muddy it definitely was! Some of the runners became so caked in mud that they looked like they'd taken a chocolate ice cream bath!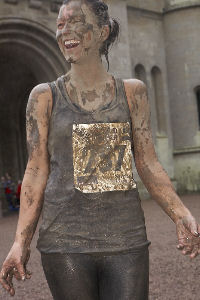 If you want to see for yourself just how much fun this event is, take a look at this fantastic
Mud Runner video gallery
.
It was an undeniably tough race but the smiling faces of the runners confirmed it was a really enjoyable and exciting challenge.
So if you're a keen runner and enjoy a challenge, check out the details for next year's
Mud Runner
event. There are rumours there might even be an earlier Spring Mud Runner too such was the success of the event.
You might yet get to look like a
chocolate ice cream
!
Labels: castles, chocolate ice cream, mud, races