Daisy & Poppy - Ice Cream Popsicle Kids
Right now summer is still at the forefront of many people's minds and enjoying ice cream is a fundamental part of this special season - for adults and children alike.
I have just returned from holiday in The Netherlands where I observed people of all ages enjoying ice cream - families out walking eating ice cream popsicles, couples walking hand in hand enjoying ice cream cones and groups both large and small sat in ice cream parlors looking excitedly at the menu, spoilt for choice as to which delicious
ice cream sundae
they should order. When I returned from holiday, this 'theme' continued when I downloaded some super photos from my friend Sarah who lives in England.
Sarah has long known of my passion for all things ice cream and some time ago she told me about a wonderful ice cream parlour within the grounds of an English castle (
Eastnor Castle
). However, as the "Ice Cream Parlour" is only open during the summer months for visitors to the castle and its special events, I knew I would have to wait before I could see any photos. Well, the wait was worth it. I have never seen such an array of smiling faces amongst people of all age groups and all of them eating ice cream!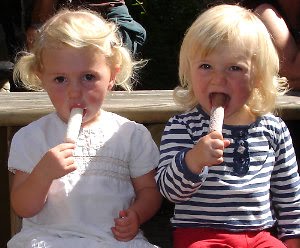 The best one? It has to be of Daisy (Sarah's beautiful 2 year old daughter) and her friend Poppy enjoying popsicles on a lovely English summer's day. The concentration of enjoyment in their faces is a joy to behold.
In England incidentally they don't use the term "ice cream popsicles" ... instead they call them "ice lollies". Now there's an idea for my next post - the history of the "ice pop". Before I digress too much though I will be back soon with more photos of smiling faces from the Eastnor Castle "Ice Cream Parlour".
Labels: eastnor castle, ice cream parlour, ice lolly, ice pop, popsicles